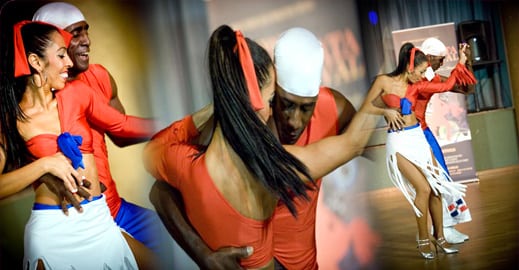 Salsa Cruise
For 3 hours you will be whisked away to Latin America.  Latin music puts a fire in your belly a wiggle in your walk making everyone feel a little hot under the collar!  Even if you think you have two left feet our qualified Salsa Instructors will guide you through some simple, basic steps to bring your sexy back!
If a dancing lesson isn't your thing we also offer a spectacular Latin Floorshow option where you can sit back, enjoy some fabulous food and watch our Latin spectacular which includes spicy dance moves, sheer talent and high energy.
Both Latin Cruise options will inspire you, get you moving and leave you captivated by this dance movement which never seems to lose its rhythm or passion.
---
Sydney Salsa Dance Cruise Dates
Salsa Show Dj & Dinner – Dance Floor
Drinks available for Purchase at Licenced BarTrio of entertainment
Looking for a big night packed full of entertainment then book our trio of entertainment cruise! This is a perfect all rounder and sure to please everyone. Versatile and talented dance floor show. Tickle your funny bone with a top class comedy act while you enjoy a delicious 3 course meal. Finish your night off with a great party dj playing the biggest tunes and old time classics as the cruise brings you safely back to darling harbour.Salsa & Comedy Combined $79 p/pChristmas Cruises $120 includes drinks packageRhythmboat Salsa Cruises Offer a unique Evening on Sydney Harbour.
Learn to dance with the best Latin Dance Entertainment or simply enjoy the Live Music & the Spectacular Sites of Sydney Harbour. The New Latin Dance Addiction is sweeping Sydney. Salsa – the only way to fire up the dance floor with an exotic cocktail of Salsa, Lambada & Merengue. An extremely high energy dance with non stop pulsating action that will leave captivated. Get ready for a Latin Party!Enjoy a Spectacular Latin Floor show on this 20 Metre Catamaran Cruising Sydney Harbour. If you haven't danced Salsa don't wait any further, book today!Experience these Dynamic Cruises with Unique Latin Dance Entertainment. Be inspired by energetic Entertainers dedicated to offering the highest standards in Salsa Music & Dancing.Groups, Birthdays, Couples All Welcome!
Music From the latest commercial hits to artists like "Jennifer Lopez", "Ricky Martin", "Shakira", "Christina Aguilera" to the latest "Salsa Dance hits", there is something for everybody's taste.
Cost: $79p/p Jan- Oct
Cost: $99-120 p/p Nov- Dec
Delicious Dinner
Dynamic Salsa Dj
Salsa Dance Instructors
Spectacular Floor Show
3 1/2 Hours Cruising Spectacular Sydney Harbour
---
Fully Licensed Bar on Board. (No BYO)
Boarding Darling Harbour.