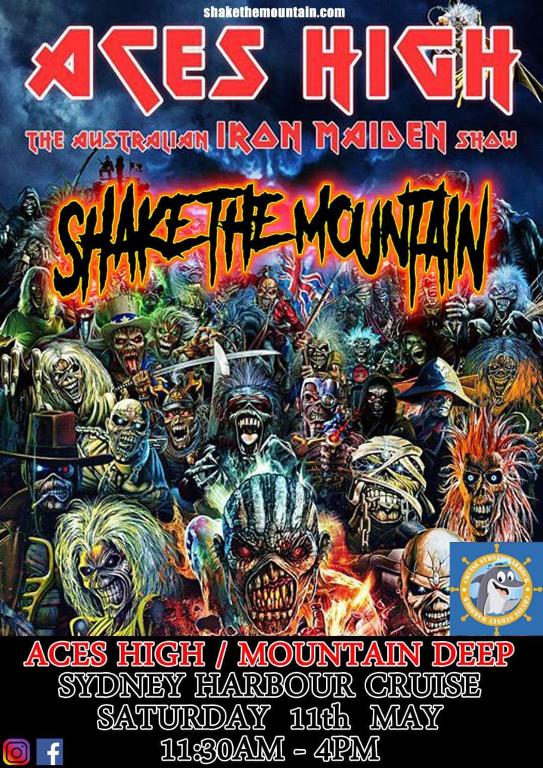 Duration: 4 Hours (approx.)
Location: Sydney, NSW
Product code: Aces
Shake The Mountain are a female fronted hard Rock cover band hailing from the Steel City of Wollongong. Playing the best in rock from the 70's 80's 90's and beyond, STM are sure to have you up dancing the night away and partying like its 1999 again!
When STM hit the stage it's party time. Audience participation is a huge part of the show. STM get the dance-floor rocking with material which is most appropriate from their comprehensive repertoire of Classic/Hard Rock. Expect to hear classic tracks from Guns n Roses, Led Zeppelin, ACDC, Wolfmother, Deep Purple and heaps more!
Few bands hold a place in the hearts and souls of every true metal fan more than Iron Maiden.
They are an icon; an enigma; an immovable force that has defined and refined the face of music in a career spanning over four decades.
They are a musical institution that is beyond reproach and as such only the brave or foolhardy have ever dared to emulate the band by way of tribute.
Aces High : Oz Iron Maiden Tribute Show, hailing from Sydney, are prepared to do just that. Pay tribute, homage, and respect to a band whose legacy is assured and whose feats will never be bettered.
"It's going to be a tribute experience," emphasised vocalist Sonja. "We try to get the music as close as possible to the real thing. Of course, playing live there will be variations but we try to stick as close as possible to the CD as we can."
Covering almost every album from the self – titled debut through to current material, Sonja says the members' passion for the music of Iron Maiden, as well as their individual skills, will see Aces High transcend the normally accepted parameters of a tribute show by not only performing the classics but also feeling them as well.
"It's all going to be there," she enthused. "The guys are all going to dress like Iron Maiden does. We've got backdrops to go with the show and we're aiming for a full Iron Maiden experience. We want people to close their eyes at our show and literally feel like they are at an Iron Maiden show."
With a 20 song set, including favourites 'The Trooper', 'Fear of the Dark', 'Number of the Beast' and 'The Clairvoyant', Sonja says that while the band attempts to please even the most die hard fans, she realises that coming up with a setlist to appease everyone is futile.
"We have done our research and added our own tastes into the selection process but at the end of the day there is only so much time we are allowed on stage," she laughed. "In saying that we put a call out through our social media asking fans what they would like to hear and the majority of requests we got back were already on the set list so we are confident we will not only give a broad representation, but also a faithful interpretation of the songs people hold dear to their heart."
The main factor that will stand Aces High apart from the rest is their choice of a female frontperson to fill the sizeable shoes of Bruce Dickenson. While admitting the gender change is sure to pique interest in a number of ways, Sonja argues that in themodern age of equality there is no reason why a female cannot perform the same vocal duties as a male.
"I've got the same range as Bruce Dickenson," she states. "I'm one of those chicks that likes to look good on stage but also leave stuff to the imagination. People like to see a powerful – and Iron Maiden themselves are extremely powerful and the name itself lends itself to that – people like to see a dominant person in front of a band so there is no reason a powerful, confident maiden can't do Bruce justice."
Departure from King Street Wharf
4 hr cruise
Finger food
Licensed bar on board, NO Byo