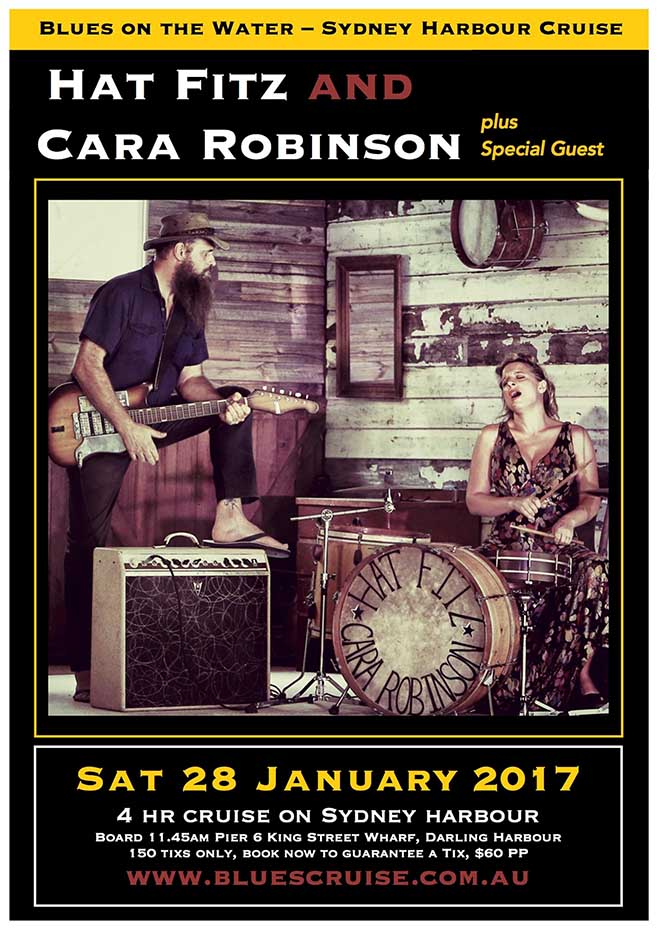 Book Now! – https://www.trybooking.com/NWKY  and  https://www.trybooking.com/243644
We are only a few weeks away until our next Blues on the Water cruise.
This time around we have one of the most exciting Australian duos – Hat Fitz and Cara Robinson. They are doing a run of East Coast dates which has included Queensland's Woodford Festival amongst others and we are honoured to have them perform on a Blues on the Water cruise later this month.
If you are not familiar with them – check them out performing their new song "Doing it again" and award-winning "Wiley Ways" and "Power" featured on Blues Explosion Volume 4.
"Rhythmic and groove-laden, and possessed of some fantastically intricate guitar work, 'Doing It Again' is Hat and Cara in vintage form – always with an eye on the past, but very much moving forward." (Samuel J. Fell, Rhythms Magazine)
Hat Fitz and Cara Robinson can in no way be mistaken for a dainty duo. They are festival favourites throughout Canada, Australia, Europe, and the UK and it has been said they pack more energy into one song than most have in an entire career. A unique combination of hill-style Gospel blues with old timey flavourings and stripped down to just voices, guitar and vintage drums, Hat Fitz & Cara embellish impeccable rootsy originals with soulful vocals reminiscent of a time once forgotten.
Come and support the band and make sure that they return to Sydney more regularly!
Boarding time is 11.45am on Saturday, 28 January 2017 from No. 6 King Street, Darling Harbour.
What's included:
Live music with award-winning Blues acts performing
Bar onboard with reasonably priced beverages – guaranteed not to burn a hole in your pocket!
Finger food
Friendly AWESOME people who know how to have fun and enjoy themselves
Capacity of boat is 150 people – so you get "close-up and personal" with the performers and
4 hours on spectacular Sydney Harbour!
Book Now! – https://www.trybooking.com/NWKY  and  https://www.trybooking.com/243644