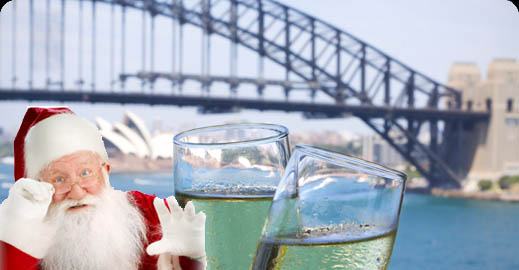 Organising the Christmas Party? Need to cater for all food preferences?  Need to cater for differing entertainment and music tastes?  Feel like it's an impossible task to ensure all age groups mix, have fun and enjoy the night?
Then book a Christmas Party cruise on the stunning Sydney Harbour, the perfect backdrop for photos. Our cruises feature hilarious comedians, live entertainment and a Caribbean party DJ pumping out the hottest party tunes and a varied 3 course menu for all to enjoy.  What more do you need?
Become the most popular person in the office and book today, share the atmosphere with others or hire a private charter.  The choice is yours but the party stays the same!
Staff Christmas Parties have never been so much fun. Our Christmas party cruises can cater for almost any size group. You can choose a joined Christmas lunch or joined Christmas dinner cruise.
Sydney Harbour Christmas Party Cruise dates:
November & December Lunch Cruise Dates:
Sydney Harbour Cruises run Daily in November & December
December Dinner Cruise Dates:
Sydney Harbour Cruises run Daily in November & December
Sample Menu
Mixed Anti-Pasto Platters
Includes Turkish Bread, Sun Dried Tomatoes, Cold Meat
Platters of Cheese and Vegetable Crudités
French Onion Dip
Char grilled Chicken Fillet, served with a Mushroom Sauce,
Fresh Herbed Chat Potatoes, Honey Glazed Carrots and Fresh Broccoli.
Lamb with a Light Casserole Sauce, accompanied by Fresh Snow Peas and Fresh
Butter Nut Pumpkin Mash
Fresh Dinner Rolls
Rich Chocolate Mud Cake
Freshly Brewed Tea & Coffee
Vegetarian Meals also Available on request
Entertainment Cruises Sydney Harbour Australia's Best Comedians
• Caribbean Party DJ • Hilarious Comedians
• Live Music & Dancing
• Lunch & Dinner Cruises
• 3 1/2 Hours Cruising Sydney Harbour
• Delicious 3 Course Meal
• Champagne, Beer, Red & White Wine, Soft Drink, Juice
Private Charters available on request.
Book Early!
XMAS LUNCH & DINNER CRUISES
The Cruise combines the spectacular beauty of Sydney Harbour with Live Entertainment, Dancing, and Delicious Cuisine. Enjoy a unique Sydney Harbour Experience with Colleagues, family and friends.
Special Offer Lunch Cruises $120 p/p includes Lunch & Show, Champagne, Beer, Wine, and Soft Drink & Juice.
Cost:
Dinner Cruises: $120 p/p    Friday & Saturday
Dinner Cruises: $120 p/p    Sunday – Thursday
Lunch Cruises: $120 p/p     Daily
Boarding Lunch:
Darling Harbour
Departing 11.45am
Boarding Dinner: Monday – Friday
Darling Harbour
Departing 7.30pm
Boarding Dinner: Saturday
Darling Harbour
Departing 6.45pm