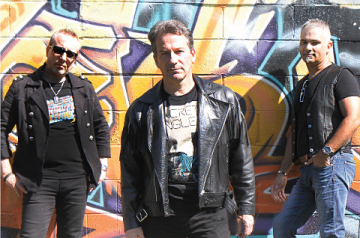 Our legendary OZ Rock finale will pump your adrenalin to explosive heights and is not to be missed!
Band Members:
Geoff – Lead Vocals
Geoff's dynamic smooth tones & ability to get into character-power each song with an energy that is the mark of someone who was born to entertain.
Bono, Robbie Williams & AC/DC have all been an influence in developing his unique style.
Over the years Geoff has sung with The Exploding Ferrets, Group Therapy and various other cover bands.
Watch out…because Geoff may just bring the show down from the stage directly to you!
Vince – Guitar & Vocals
Picking up the guitar at the ripe old age of 16 and influenced by the Beatles and The Eagles, he took to his Axe with a feverish passion.
Over the years Vince has formed many successful bands and his valuable experience is a great asset to any rock musical formation.
Playing world rock classics from AC/DC, The Angels and Dragon, he loves keeping the Australian flavour flying high at any gig…a true OZ Rocker!
The master blaster of the Fender Telecaster!!
Richard – Guitar & Vocals
The "Rock Pig" as he is sometimes known started playing his axe at a young age. He began playing country music but then the Rock/Blues bug bit him like a venomous snake and the poison still circulates with every heart beat.
Richard has played in various cover bands and original band
"Runaway Babe" . He worked the club scene with Roy Cooper from "Custers Last Stand" up and down the East Coast of Australia for years honing his craft. In 2010 he found himself playing in Wild On Woodstock along side the great Phil Emanuel. He now brings his considerable experience to Triple Grip.
Inclusions – 4 hrs cruise, buffet Lunch, Live Band playing hits from the 60's, 70's & 80's
Date – Sunday 19th November 2017
Time – 11.45am
Cost – $50pp
Location – King Street Wharf 6