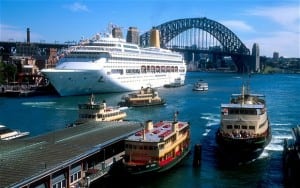 On Wednesday 25th November 15, P&O's "5 ship spectacular" sail into Sydney Harbour to kick off a party "like no other on Earth".
It will be the highest number of cruise ships ever hosted on the harbour, on a single day.
The ships are set to make a spectacular entrance to the harbour, with the ships sailing in a V shape formation in a "salute" to Sydney.
The ships will cruise through the heads and take up their positions at Athol Bay, Garden Island, Point Piper, the Overseas passenger terminal and White Bay.
The celebration will conclude with a spectacular fireworks display.
The Rhythmboat, Sydney harbour's Funboat, will be in the middle of the celebrations cruising around the P&O fleet all while having its own party on board with live music, party DJ, food and beverage.
The cruise will depart from King Street Wharf 6 at 7pm and will return at 1030pm.
Tickets are limited to 130 passengers.
Ticket price includes;
Live entertainment,
Cruise
Cocktail/finger food
$69pp
There is a licensed bar on board.
Come on everyone, calling all passengers who have ever been on a P&O cruise to join the Rhythmboat and be part of this huge celebration and once in a lifetime event.
BOOK NOW by calling 1300 551 804 or click below to book online