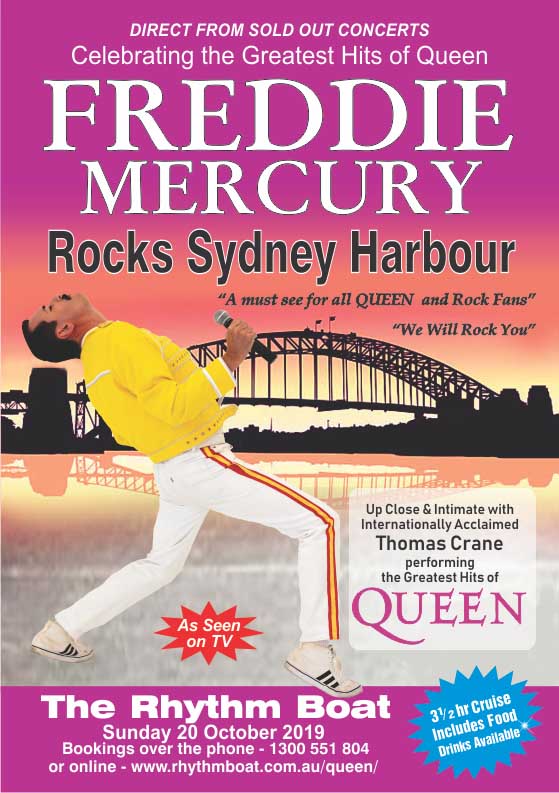 Freddie Mercury Rocks Sydney Harbour!
Sunday 17th November, 2019 – 4:30pm
Exclusive Up Close & Intimate Performance
QUEEN is amongst the greatest rock bands of the twentieth century and Freddie Mercury is hailed by many as the most charismatic and flamboyant performer in contemporary rock's history.
This exclusive and intimate show sailing around the best Harbour in the World features Internationally Acclaimed Thomas Crane who is arguably the best Freddie Mercury in Australia in looks and sound and hailed by many critics as being as good vocally as Freddie Mercury.
There are not too many performers who could attempt to re-create the distinctive voice that fashioned so many changes in the technology of production that Freddie Mercury and Queen achieved from the 70's through to the 90's. Thomas Crane is one of the few and presents a performance of Queen classics that will leave you gasping at his wonderful interpretation of the great man.
Thomas with his exciting and sensational voice will bring back to life the visual excitement, sound and stage energy as witnessed at a Queen concert.
The sensational Thomas Crane will perform all the great hits of QUEEN such as – We Will Rock You, Crazy Little Thing Called Love, We Are The Champions, Radio Ga Ga, A Kind of Magic, I Want To Break Free, Another One Bites the Dust, Bohemian Rhapsody and many more.
Please book now as this show will sell out!
Price of $99* includes:
3.5 hour Cruise (approx)
Entertainment
Catering
Licensed Bar
No BYO
* Plus Booking fee